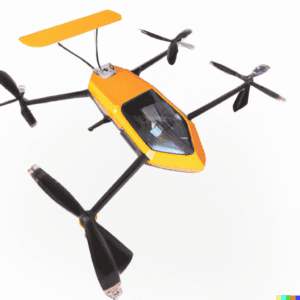 Most of us have experienced waiting on a curb, looking for our Uber or Lyft rides to come by. But what if your next rideshare came from above? It's not a crazy idea anymore. Supersize drones are awaiting passengers to transport through the skies over California and become the next big taxi service option.
The eVTOL (electric vertical takeoff and landing vehicle) is part helicopter and part drone and it's ready to fly you over freeway traffic jams to get you home in record time.
Travel by eVTOL promises to be quicker and more thrilling than a ride in the lanes. They'll fly high above crazy California drivers, but that doesn't mean you'll be absolutely safe in the air. A plane malfunction or a collision could leave you with a serious injury and wondering who is financially responsible.
A Free Consultation With an eVTOL Accident Lawyer
After suffering a serious injury in an eVTOL taxi accident, it's critical that you receive the best care available and that you have the money to pay for that care. An eVTOL personal injury accident could leave a pilot, a company, or even a manufacturer liable for every physical, emotional, and financial hardship you suffer.
Contact California's Rideshare Law Office for a free and confidential consultation. It's a no-risk way to stay informed on how much your injury is worth and what you should be demanding from an insurance company. Our skilled California eVTOL Accident Lawyers are also able to assist grieving families in filing for support after a tragic eVTOL accident makes a wrongful death claim necessary.
What Is an EVTOL?
The eVTOL is ready to take flight in California and other states across the U.S. They launch from airports but are also small enough to land on rooftop landing pads at hotels and parking garages.
The eVTOL is an aircraft powered by electricity that can take off and land vertically. A helicopter is one type of VOTL, but the "e" is used to describe a chopper that doesn't use fuel. Business Insider labels eVTOLs as low or zero-emission urban aircraft. They are primarily intended as short-haul air taxis.
The most advanced eVTOL boasts a range of 350 miles or more on a charge. They currently fly at around 200mph. Some will operate up to 10,000ft.
One class of eVTOL is classified as ultralights and doesn't require a pilot's license to fly. Others do require a pilot's license to operate. For these crafts, FAA approval will be necessary to utilize them in the airspace above places like Los Angeles and San Francisco.
Several major corporations like Boeing, Rolls Royce, and Joby Aviation are developing models or already have them in the air. Some models are flown by a pilot. Some allow the rideshare customer to fly them. Other eVTOL versions are operated by remote control by operators on the ground with the help of computers.
Who Is Liable for a California eVTOL Accident?
When you ride in an Uber car, the Uber driver is responsible for driving safely and keeping you out of harm's way. The Uber corporation also has a legal "duty of care" to hire safe drivers who have clean backgrounds that have been thoroughly checked out.
When a reckless Uber driver causes an accident and you are hurt, Uber itself could be held liable. When a car malfunction, such as a brake failure, causes a serious accident, the car's manufacturer could be held accountable.
In the same way, those that own, operate, and maintain the eVTOL aircraft must also take responsibility for making sure they are safe for passengers. These eVTOL companies must also ensure that their pilots, mechanics, and other employees are safe and responsible representatives for the company.
When a mistake is made in the hiring process or there's a failure to provide enough training, EVTOL corporations are left liable for the consequences that arise. When this negligence contributes to an accident, injured victims are empowered to sue a California eVTOL owner and operator for damages.
If a design flaw or a part malfunction causes an eVTOL crash, the aircraft manufacturer could be held responsible for injuries and recovery costs. In some cases, a California eVTOL Accident Lawyer will file claims against several different parties to ensure they provide their fair share of support to injured victims and their families.
Compensation for California eVTOL Accident Victims
An eVTOL accident can involve a midair collision with another aircraft. It could entail a part malfunction that leaves a craft and the victims inside falling from a thousand feet or more. It could involve pilot error, or even a drunk pilot, whose actions endanger everyone on board an eVTOL.
These and other negligent acts leave pilots, their employers, and eVTOL manufacturers liable for damages. Unfortunately, the insurance companies that represent these parties won't make it easy on the victims who need the most help after an eVTOL crash.
With assistance from your California eVTOL Accident Attorney, you'll need to make sure every factor that should earn compensation winds is documented on your injury claim. Your lawyer will work to include every hardship you've faced and provide evidence of those hardships.
Once your eVTOL lawyer begins negotiating your case, the amount on your eVTOL accident settlement check will be determined by these and other factors:
The total on your medical expenses now and those expected in the future.
Costs associated with a permanent physical disability such as an accident that leaves you paralyzed or causes you to lose a limb.
Support for the physical pain you endure.
Support for the emotional trauma you endure.
Wrongful death benefits. The benefits families receive for the loss of a loved one and for the future when they'll be without the guidance and financial support a loved one would have provided.
Earnings and benefits you've forfeited while missing work.
Travel costs for transportation to doctor and physical therapy appointments.
Damage or destruction of property.
The skill of your California eVTOL accident lawyer. Your lawyer should have good investigative skills so that you have the evidence you need to hold an eVTOL company accountable. Your lawyer must also be an expert negotiator who rejects "lowball" injury settlement offers and then fights for more for you and your family.
Frequently Asked Questions about eVTOL Accidents
How long can I wait to file an injury claim over an eVTOL accident?
In California, you have two years from the date of the EVTOL accident to file a claim. It's best to take action as soon as possible. Your lawyer will have an easier time securing evidence and tracking down witnesses if you act quickly.
What if I can't afford to pay a California eVTOL accident lawyer?
You don't have to worry about paying your Rideshare Law Office attorney. We don't get paid unless we win your case for you. And then, our fee comes out of the settlement we secure for you and your family.
Do I need a California eVTOL accident lawyer after a crash?
In most cases, yes. Corporations that operate EVTOL fleets will be able to afford corporate lawyers who will find ways to minimize your injury claim. Your attorney safeguards your interests and fights to maximize your compensation.
Contact a California eVTOL Accident Lawyer
If you or a loved one suffered a serious injury in an accident involving an eVTOL aircraft,  contact California's Rideshare Law Office for a free consultation. This confidential, no-obligation case review is a way for victims and their families to find out what they should be demanding from an eVTOL company after a crash.
Insurance representatives will be trying to convince victims to accept far less than they'll need to recover physically and get back on their feet financially. Allow a skilled California eVTOL Accident lawyer at Rideshare Law Office to ensure you receive everything you need to rebuild your life.